Olney overpowers Du Quoin in State Quarterfinals, 65-27
Emma Fischer had a team-high 8 points against Olney. (Doug Daniels Photos)
By Doug Daniels
1351sports.com / duquoinsports.com
January 21, 2018
​
(Ina, Ill.) - The Lady Warriors fought it out with Olney in the quarterfinals of the SIJHSAA Class L Girls Basketball State Finals on Saturday, but simply couldn't keep up on the scoreboard, falling 65-27 and ending their season with the best record in the program's history, 20-5.
"The girls played hard, it wasn't there today," said DMS head coach Debbie Ritter. "Olney is the best shooting team we have seen all year. They don't miss. (Anna Blank) is the best guard we have seen all year, we knew she was good. Coach Heape went and saw them play, we did our best to prepare, and they were the better team today. They are a fantastic team, and I would probably say they are going to win the whole thing if I had my guess. We knew we had a hard draw coming into this thing, we knew we were going to have to be at our best, and it just wasn't there today."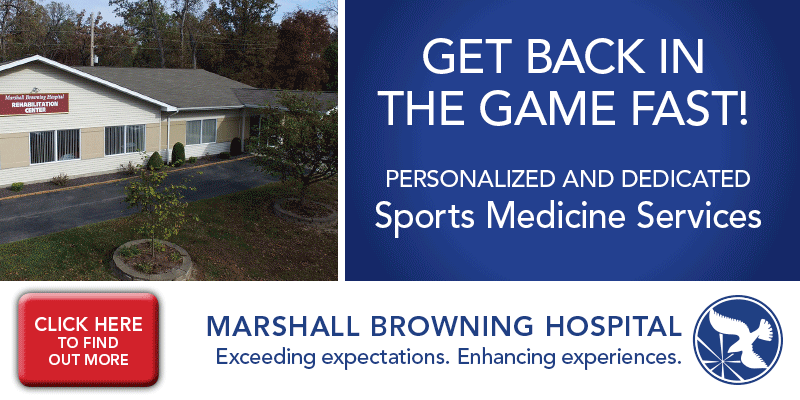 Six points from Emma Fischer helped Du Quoin stay within striking distance in the opening half, as the Lady Warriors trailed 25-16 heading into the break. But Olney's sharp-shooting finally took over in the third period where they outscored DMS 23-8. Foul trouble for post players Ayanna Dunklin and Loveleen Dunklin also hindered Du Quoin's ability to stay in the ball game and took away the one area where the Warriors had a true advantage on the floor.
"The fouls caught up with us again," Ritter said. "When the Dunklins aren't on the floor down underneath that basket, it's hard for us to keep going. That's one thing that we have against most teams is our speed in the post, and without them underneath there, it hurts."
Fisher led DMS with 8 points, A. Dunklin had 6, Maddie Stevenson 5, L. Dunklin 4, and Abbi Mocaby and Lauren Heape each had 2.
"I can't be more proud of these girls," said Ritter. "That's a fantastic group of girls, and it's going to hurt to lose (the eighth graders). I told them you have no reason to hang your heads, keep your heads high. You made history this year, go make history at the high school level."