Indians snap losing streak with convincing win at Trico
Lamontay Daughtery led DHS with 22 points at Trico. (Doug Daniels Photos)
By Doug Daniels
1351sports.com / duquoinsports.com
January 25, 2018
​
(Campbell Hill, Ill.) - A 21-point first quarter set the tone for the Indians in their 67-44 road win over Trico on Tuesday in a make-up game originally scheduled for January 13. Nine different Du Quoin players scored with sophomores Lamontay Daughtery and Braeden Pursell leading the way with 22 and 16 points respectively.
The victory ended a three-game losing streak for the Indians, who finished last week's Okawville Tournament 1-3. Their three losses there came by a combined total of just 17 points and all very easily could have gone the other way.
"It's always nice to grab a win, especially on the road," said DHS head coach Justin Barrington. "The first quarter I thought we dictated the tempo and dictated the speed of the game. It was to our favor, we didn't let them get settled into their offense. We moved the basketball, hit some shots. It's always good to jump out early on the road, we made them call two timeouts in the first three minutes of the game. That's something you always talk about doing and tonight we were able to do that. It was a well-rounded team effort tonight."
Daughtery was dominant on the inside and outside all night long, putting in three three-pointers, while Pursell did the bulk of his damage in the fourth quarter where he made three of his four triples.
"They didn't (have an answer for Daughtery), most teams don't when we space the floor," Barrington said. "He moved well without the basketball tonight, and he hit jump shots. If he's hitting his jump shot, it's pretty much game over for the other team. When you're that athletic, and you're hitting your jumper, it changes the whole complexion of the game. Then Braeden Pursell hits three threes in the second half for us, and those didn't hit the rim."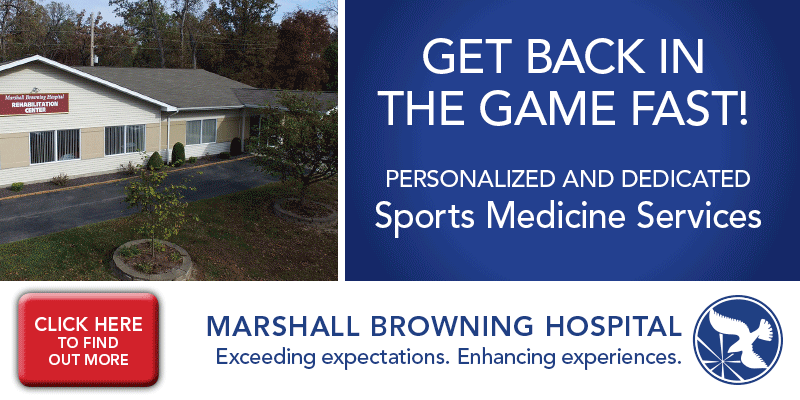 Four other Indians had at least six points - Josh Heape (7), Hank Stewart (6), Will Woodside (6) and Eliot Gross. Westly Milam added 2 points and Klayton Donoghue and Jacob Green each had 1. Du Quoin played without Ashton Smith, who took the night off to rest a variety of ailments in hopes of being healthier for Friday night's home game against Carterville.
"Hank hit some shots, he's getting to the rim," said Barrington. "Josh is hitting jump shots. Will is keeping the ball alive. Like I said, a total team effort tonight. We were able to limit Shamar's minutes bringing him back along, we rested Ashton tonight to get him healed up. Klayton, Eliot and Brian came off the bench for us tonight and all contributed well. Those are things you can't put a price tag on. It was all 12 guys in the second half, that's what we needed and that's what he got."
The Indians led 21-13 after eight minutes, 36-22 at halftime, and 42-34 heading into the fourth quarter where they outscored the Pioneers 25-10.
Du Quoin (10-12) hosts the Lions on Friday, then travels to West Frankfort on Tuesday.
​
Gibault 66, Du Quoin 58 (@Okawville 01/20/18)
The Gibault Hawks wrapped up third place at the Okawville Mid-Winter Tournament by sending the Indians to their third straight loss last Saturday, 66-58. DHS trailed by just one point at the break, but the Hawks went 12-of-16 at the free throw line in the fourth quarter to extend their lead.
Heape scored 21 points to lead DHS, Daughtery had 11, Pursell 9, Stewart 8, Woodside 7 and Smith 2.